THERMAL NEUTRON DETECTION
EJ-426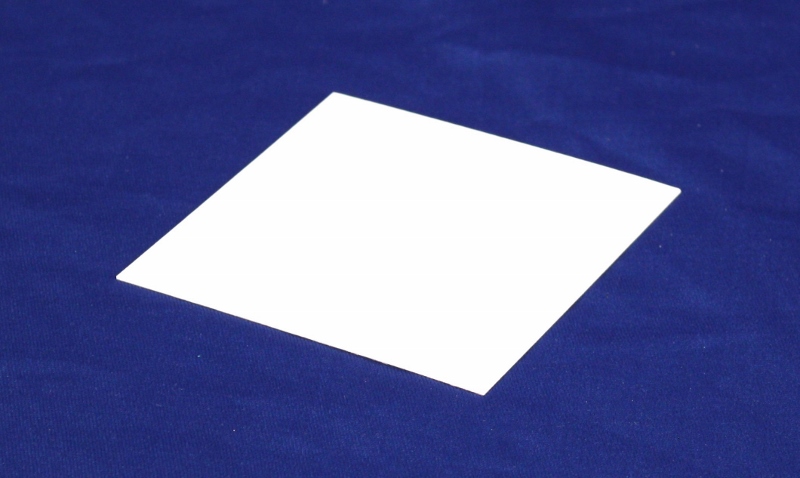 EJ-426 is an efficient detector for thermal neutrons with low sensitivity to gamma radiation. The detector has the form of a flat, white, thin sheet consisting of a homogeneous matrix of fine particles of lithium-6-fluoride (6LiF) and zinc sulfide phosphor (ZnS:Ag) compactly dispersed in a colorless binder. The lithium is enriched in 6Li to a minimum of 95 atom %.
The neutron detection process employs the nuclear reaction 6Li (n, α) 3H:
6Li + 1n → 3H + 4He + 4.78 MeV
with a cross section of 941 barns for 0.025 eV neutrons. The resulting triton and alpha particle are detected by ZnS:Ag phosphor with the broad blue fluorescent spectrum shown below. The decay time of the prompt scintillation component is 200 ns.
EJ-426 sheets can be manufactured in a large variety of sizes and formulas and are usually supplied with a support backing. Most types are heat formable. The tables below present the product variations currently available.
DETECTION PROPERTIES

EJ-426-0

EJ-426HD

6LiF:ZnS Mass Ratio

1:3
1:2

6Li Density (atoms/cm3)


8.81 x 1021
1.07 x 1022

Theoretical NTH Efficiency

0.32 mm thick

0.21
0.25
0.5 mm thick
0.31
0.36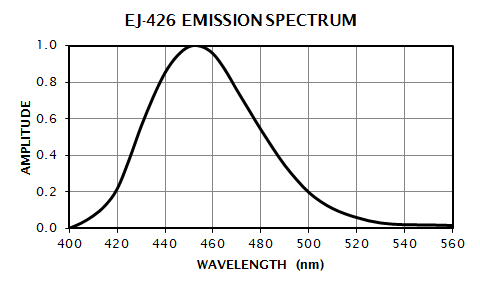 ---
ORDERING INFORMATION
When requesting EJ-426, please specify the desired formula, matrix thickness, backing material, and sheet size. Standard options are listed in the table below. Custom formulations and variations are also available. The maximum sheet size is 400 mm x 500 mm.
EXAMPLE
Product Number: EJ-426-0-PE
Description: Phosphor matrix with 1:3 6LiF to ZnS mass ratio on 0.25 mm thick clear polyester sheet.
Sheet Size: 0.32 mm thick × 100 mm × 100 mm
FORMULA

EJ-426-0
EJ-426HD

THICKNESS

0.32 mm
0.50 mm

BACKING

Material Type
Description
Suffix

Aluminum Foil
50 µm thick foil
(none)
Clear Polyester Sheet
0.25 mm thick sheet
-PE

Laminated between two 0.25 mm thick sheets

-PE2
Aluminized Mylar
0.12 mm sheet
-AM
Pure Aluminum
0.5 mm plate
-PA
High Reflective Aluminum
0.4 mm plate
-A